Optimize Work Efficiency with OpenKM and CmisSync

Written by Ricardo Álvarez, OpenKM USA staff member on 26 February 2021
OpenKM actively works with our customers in a variety of ways to identify and apply its tools to optimize operational procedures.
One of OpenKM's most successful – And straightforward – implementations is the CmisSync integration.
We have replaced our Desktop Sync app with the CmisSync application to grant more control and security to our users.
What is CmisSync?
CmisSync is used to synchronize documents between designated files in the client's OpenKM server and the user's local environment, allowing them to retrieve easily, create, update, move, or delete files from the repository across the established connection.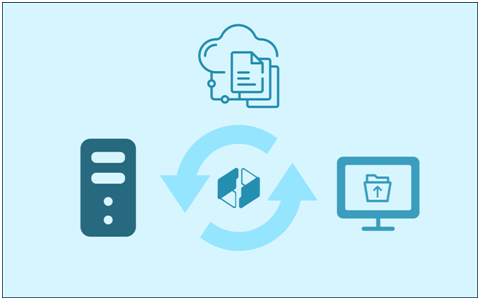 Features
The primary purpose of the CmisSync is to synchronize local files to a private server's repository. However, two core aspects stand out from other synchronization tools: security and control.
Security
Document security is enhanced by providing direct synchronization to the user's file server or private cloud instead of a public cloud.
This application enables more security than standard third-party sync tools and public cloud services, granting further control over the file server's user accounts and permissions regarding administration and security. In other words, employees can only see the files they are allowed to see.
Control
Enabling local to server synchronization eliminates the necessity of duplicating files by using OpenKM's version control feature.
Furthermore, the user can select what files or folders to synchronize to optimize the system's performance.
Designated users can lock files in the cloud to prevent conflicts when performing modifications or to stop them.
Common Uses
Each company's business-specific workflows may define the way that they can benefit from using a desktop-sync system. That being said, here are some of the most common uses of desktop sync features we have encountered with our clients:
Remote work
Remote work has been increasing over the last few years, particularly after 2020.
By synchronizing a local folder to a server, a user can seamlessly transition from a home office to a business office without manually transferring files.
Synchronized Teams
A similar principle can be applied to users' networks that require constant modifications while working on shared projects.
Each project's active users can select and synchronize a local folder to a single server folder containing all the project's data.
The connection can be established as two-way sync, ensuring that every time a user updates a file, it will update the shared file in the linked server, which will update the local files' status in all the related users to the project.
A typical scenario for this type of interaction is using and updating a frequently used asset, like a pricing list.
A company with several account managers needs to keep them all in the loop when updating any pricing sheet changes. By enforcing a synchronized file across the board, a single update done by a user with modification privilege could potentially update dozens of employees' files at once, without requiring a single action or notification from their part.
Large project files
Constantly updating large files – or a large number of files, for that matter – can interrupt any employee's workflow.
An easy way to improve work efficiency with large files is to synchronize the desired files and establish a slow update rate.
The user can also set a download & upload bandwidth limit to avoid compromising the system's performance.
Working with Specialized File Types
ECM systems rarely allow the preview or web-modification of industry-specific files.
File types meant for audio, design, 3D modelling, and many other productions require commercial third-party software to edit them, and it can be highly inconvenient to modify them.
By synchronizing the files locally, the users can avoid the hassle of logging in, downloading the document, modifying it, and then uploading it back to the repository.
How to Configure CmisSync with OpenKM
Download CmisSync from their official website
Open the app and enter the public URL of your OpenKM instance, followed by /openkm/cmis/atom
Enter the user credentials for OpenKM
Select the repository folder to synchronize
Select and rename the local path for synchronization (Optional)
Accept
Conclusion
It's no secret that companies use an ever-increasing amount of files, and it can be detrimental to store large amounts of files in local computers, not to mention the additional storage required for version control and the inevitable clutter it causes.
OpenKM and CmisSync allow the user to obtain local storage and access benefits without incurring any of the unlinked local-storage down-sides.
By implementing Content Management Interoperability Services standards, OpenKM allows the users to define an abstraction layer for controlling the repository using web protocols.