New integration between OpenKM and ONLYOFFICE Docs

Written by Kseniya Fedoruk on 17 December 2021
With ONLYOFFICE Docs integrated into the OpenKM document management system, users can edit and co-author Office documents directly from the document manager. Read on for details.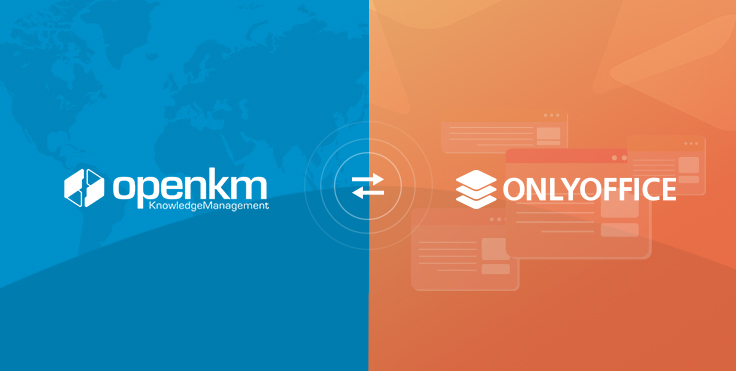 OpenKM and ONLYOFFICE Docs: WOPI integration available
About OpenKM
OpenKM is an open-source electronic document and records management system developed by Open Document Management System S.L. based in Spain.
The platform enables users to control the production, storage, management, and distribution of electronic documents. In addition, it includes administration tools to define user roles, access control, user quota, document security level, detailed activity logs, and automation settings.
Users can choose between the free community version distributed under GPL v2 or opt for the Professional version.
Simplifying working with documents
When users need to edit a file in OpenKM, by default they must do so from the correctly configured device, as OpenKM makes a call to the appropriate software to enable document processing.
However, this scenario is not always possible. That is why the developers decided to implement the integration with ONLYOFFICE Docs. According to OpenKM, ONLYOFFICE is an ideal solution to allow online document editing, regardless of device configuration.
"The integration of OpenKM and ONLYOFFICE increases the versatility of the document management system while giving users more freedom and decision-making power". Vicente Bravo, Senior Developer of OpenKM
How the integration works
To be able to edit Office files in OpenKM, you need ONLYOFFICE Docs (Document Server) installed on your computer.
The integration itself is based on the use of the WOPI protocol. It must be configured by a technology specialist, in most cases an OpenKM administrator. Detailed instructions are available in the official documentation.
From the end-user perspective, everything is pretty easy. You will see the new ONLYOFFICE option in the interface of your OpenKM session and you will be able to open documents, spreadsheets, and presentations for editing and co-authoring.
You can also watch the video tutorial to learn how to work with ONLYOFFICE within OpenKM
About the author: Kseniya Fedoruk is a Marketing at ONLYOFFICE. She is a technology and open source enthusiast, but also a linguist and translator (English and German) and a lover of piano music.