Benefits of Document Management in Teleworking

Written by Ana Canteli on 29 January 2021
No doubt teleworking has transformed the way of working for many organizations, private companies, and public entities. Especially in those areas or departments in which the creation and management of documentation are intense. Remote work, which was previously seen as a possibility or an option, has become the usual trend for many people, without forgetting the problems and difficulties they have had to face to approach this way of exercising their professional work.
Challenges of teleworking
Teleworking should not be a challenge, but the circumstances in which most have experienced this modality have been so exceptional that it has possibly made them see more difficulties than the advantages.
Security: organizations should provide their resources to their users (employees, clients, suppliers, public administrations, etc.) in safe conditions. They must ensure that the user trying to access their systems is who they claim to be and that the security policy must offer reasonable protection against unwanted access or cyber-attacks.
Legislation: the swiftness with which most people have immersed themselves in teleworking is no excuse for the lack of legal measures that guarantee minimum conditions that guide responsibilities and rights in teleworking. It is possible that in this sense, the initial uncertainty about how to approach teleworking has not found an adequate answer, and the gaps have been covered with improvisation.
Business culture: People may be more familiar now than ever with one of the side effects of working remotely. The distance is physical and intellectual from the work environment created in the traditional office. Not surprisingly, most of the information we exchange is non-verbal, which becomes practically invisible in this work mode.
Training: remotely working involves a different dynamic, another way of organizing, and, in some cases, its protocols. Ideally, the company should consider a real need, informing and even training employees in this new way of working.
Integration: when creating a teleworking position, the organization must analyze its hardware and software structure in detail. Since if the laptop or desktop computer that the employee takes home is correctly configured, the suite of programs that they need to use remotely is accessible and well established for this type of activity.
The service of online document management
Now that teleworking is almost the norm rather than the exception, it is essential to think about the options and tools that do remote work as good a way to work as it is from the office. In many cases, document management systems are the cornerstone around which the entire telework ecosystem is organized.
Digitization: the organization is likely to have a physical file - inaccessible to remote workers -. Document management software should help implement the paperless office from different fronts. And the digitization of paper documents is the most common. It must also be considered that a digital or digitized document will be part of other processes and tasks. The document management system must serve as support for more activities, such as document signing.
Cost control: one of the advantages of remote work is that while business processes previously only possible in face-to-face mode are possible online. It allows you to see all the activities that are part of the business and audit them. Process automation and reporting on highlights can be beneficial for this purpose.
Communication tools: it is usually the first question that appears when we consider teleworking. How are the members of the organization going to relate if each one works from home? Thus, electronic document management software must include functionalities that allow communication and coordination between staff, from adding comments to documents like notes or incorporating keywords, categories, metadata to files, even using a task manager to call meetings.
Disaster prevention: This is an essential aspect of any organization. Backups are a constant in any IT project. But it will be necessary to consider the impact of the number of users connected to the company's systems and the amount of content they create and manage per hour, day, week. The chosen document management system should provide various backup management possibilities.
How to do the right telework?
At the beginning of this article, we already said that remotely working should not be a problem, instead of an option to achieve multiple advantages. Both for the organization - recruitment, retention of talent, reduction of expenses, increased efficiency and performance, better work-life balance, flexible hours, reduction of time, money, and commuting risks. But considering teleworking is not an issue to be taken lightly; therefore, we cite here some aspects to consider: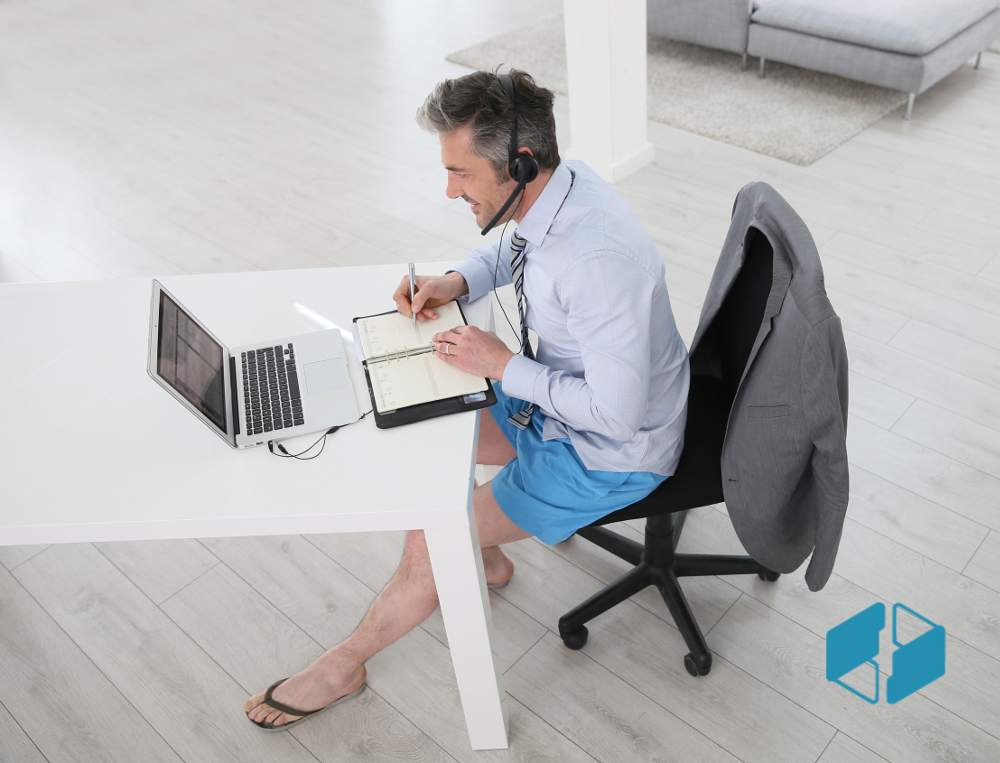 Teleworking plan: although due to the unusual situation we live in, many people - natural and legal - have entered this form of work without due preparation, the desire for continuous improvement will undoubtedly correct the initial errors. Here you can see some ideas when implementing work from home.
Process update: it is a benefit that we can take advantage of. Given that many business processes have also had to be offered online, we can apply improvements in the task's development, such as process automation. In this sense, electronic document management software must provide integration facilities with third-party applications and a complete software suite that supports the updating and improving processes.
Communication with customers: It is a fundamental facet of any business. Customers must be offered our products and services safely, both in health and in IT terms. That the document management system allows us to expand and extend the online work environment for all users, including clients, should be an essential feature when choosing the software, we want to work and evolve.
Records management: aspects such as time control, compliance with the general data protection regulations, effectively managing the life cycle of documents are obligations that remain in force. That a document management system offers the possibility of effectively working the company's records with guarantees is an exciting plus.
The OpenKM electronic document management system has all the features mentioned above to help your company implement teleworking properly. If you want to see how our software can help you, you can request a personalized online demo.